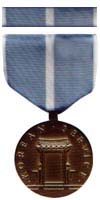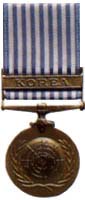 U.S. 8th ARMY

My Dad, PFC. George E. Henderson
and his trusty box camera.
I set up this site to try to document a mostly overlooked aspect of a forgotten war.
It's been over 45 years since American troops fought a very bloody and costly war on the Korean peninsula. They were able to fight this war in part because of the continous and reliable flow of ammunition and supplies coming into the port of Inchon. At the Inchon Railhead the Ammo was loaded onto box cars and shipped to the 58th Ord. Ammo. Co. railhead at Sihung near Yongdungp'o. It was from there distributed to forward ASP's farther inland where the fighting was taking place.
One of those places was in the Churwon Valley and the Kumhwa Valley, where my Uncle Patrick Ging was stationed with the 92nd Armored Field Artillery and I've included some of his photos and stories on this site as well.
After my Dad completed his basic training at Aberdeen Proving Grounds in Maryland, he was shipped off with thousands of other young Americans to join the 8th Army in South Korea. After a brief indoctrination in Japan, they were taken by ship to the Korean port of Inchon. Dad was assigned to the 58th Ord. Ammo Co. at Sihung South Korea.
There he was to spend the next 16 months.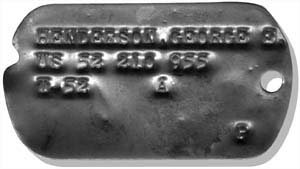 One of Dad's dogtags.
Although my dad wasn't involved in any of the fighting during the Korean War, he recorded with his camera a unique facet of the war. As an Ordnance Specialist, he was involved in the day to day duties of transporting, recording, stacking, guarding and the ultimate distribution of all types of ordnance to the forward ASP's (Ammo Supply Points) that were located throughout Korea. From time to time for adventure, he would volunteer for guard duty on the ammo trains going north. This allowed him the opportunity to visit some of the forward ASP's and once he even had the chance to visit with my uncle (his future brother-in-law) near the front. He also at one point escorted a military prisoner to Inchon to be sent back to the States.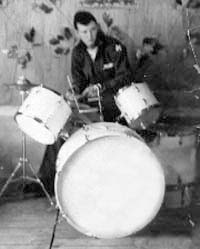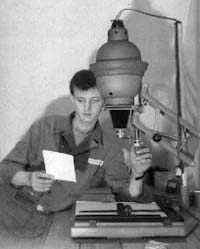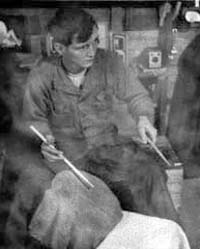 As long as I can remember, my dad always had a set of drums. I grew up knowing names like Buddy Rich and Gene Krupa. Slingerland, Ludwig and Zildjian Cymbals were household words. I think one of the big disapointments for Dad was that I never became a drummer. Along with his drumming, he enjoyed photography and either shot or developed most of the photos on this site himself.
-----SPECIAL NOTE-----
This site is in no way a definitive study of the WAR in Korea and I am by no means a historian. I'm a commercial artist and collector and after viewing my Dad's photo album, I was taken by the unique perspective and significance of his photos. I decided and with Dad's blessings to build a web site so that we could share his collection of photos and a few memories with all of you.
I'd like to thank my Dad and my Uncle Buzz for taking the time to talk to me about Korea and sharing their photos.
*
The information is based on their recollections and my interpretations of their stories and should not be considered absolute fact from a historic perspective and while the text may have some errors, the photos are fact.
*
Any mistakes, typos or misinformation are all my fault.
*
I'd also like to thank my son Shane Patrick Henderson
for helping and cleaning up my HTML.
*
Note that this is an ongoing project and we welcome your comments,
questions and suggestions.
*
All photos unless otherwise noted, are from the collection of George E. Henderson.
---

Follow Andy Ammo to the next page
---
|
HOME
|
ABERDEEN PROVING GROUNDS
|
CROSSING THE PACIFIC
|
INCHON
|
McNAMARA
|
|
AT THE 58th
|
LEO THOMAS
|
DAE BUH CHANG
|
R&R IN JAPAN
|
|
92nd ARMORED FIELD ARTILLERY
|
121ST MEDICAL EVAC. HOSPITAL
|
|
GOING HOME ON THE USNS GEN. BLACK
|
PROPAGANDA WAR
|
|
58th PX
|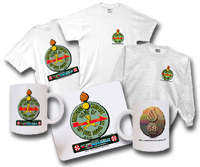 T-shirts, Mugs, Mouse Pads and more...