The U.S.M.S.T.S. General Black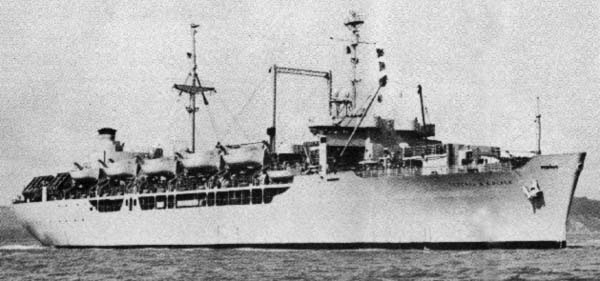 The U.S.M.S.T.S. General Black
After serving his time at the 58th, Dad was shipped home on board the U.S.M.S.T.S. General Black. One of the sad things about this happy event was that his friend Leo Thomas still had time left in Korea, they were both sad about possibly never seeing each other again, their friendship was one of the good things that happened in Korea. They had promised to get together when they were both back home, but sad to say, that has never happened even though they have kept in touch.
The General Black left Pusan, but after about a day out, a Nationalist Chinese LST collided with her in heavy fog in the sea of Japan. The damage was bad enough that the next 7 days were spent at Sasabo Japan while repairs were made to the General Black.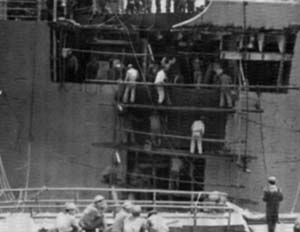 The Gen. Black in for repairs at Sasabo Japan. The shot on the left is from the inside looking out and the shot on the right shows work crews doing repairs.
Even after repairs, there was still a few more ancious moments for the troop on board the Gen. Black. A few days out from Japan there was a fire onboard the Gen. Black, but fortuneatly it was contained quickly. The rest of the trip to San Francisco was almost uneventful other than the typical bouts with seasickness that most of the guys experienced.
One evening McMamara asked my dad if he could have anything to eat, anything at all, what would it be? Dad replied "Pizza". He hadn't had a pizza in 16 months. Later McNamara shows up with two pizzas that they cooked on a steam pipe.
They were finially going home...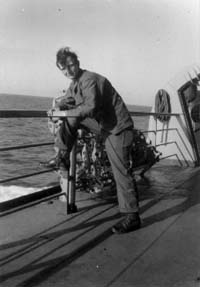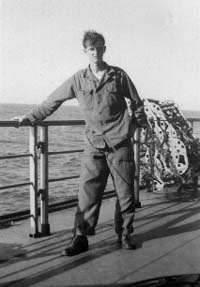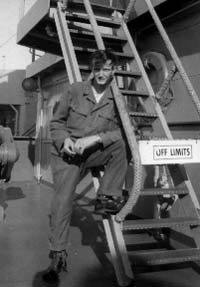 ---
|
HOME
|
PFC GEORGE E. HENDERSON
|
ABERDEEN PROVING GROUNDS
|
|
CROSSING THE PACIFIC
|
INCHON
|
AT THE 58TH
|
McNAMARA
|
|
LEO THOMAS
|
DAE BUH CHANG
|
R&R IN JAPAN
|
|
92nd ARMORED FIELD ARTILLERY
|
121ST MEDICAL EVAC. HOSPITAL
|
|
THE PROPAGANDA WAR
|
LINKS
|
|
58th PX
|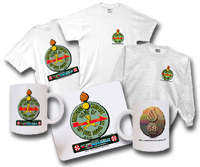 T-shirts, Mugs, Mouse Pads and more...