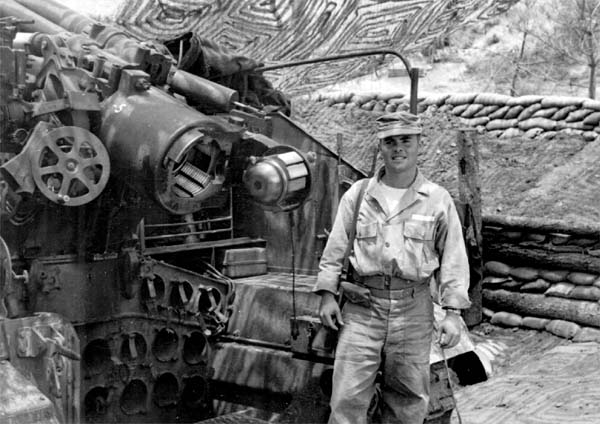 This is my Uncle, Sgt. Patrick James Ging ("Buzz" to his friends and family). He was assigned to a 1-5-5 in the 92nd Armored Field Artillery at Churwon and Kumhwa Valley in support of the Second Division.

It took a crew of six men to operate the 1-5-5 by the book, but it could be operated by less and every man had to know the others job, just in case.

Here's Uncle Buzz with a Browning M-1919A4 .30cal machine gun on a M2 tripod.
As with most of the equiptment in Korea, the 1-5-5's were left over from WWII. My Uncle didn't feel they were the best equipted army, but still they were nobody to mess with. He had a lot of respect for Gen. Ridgeway, but really had nothing good to say about MacAuthur. And speaking of Gen. MacAuthur, the guys were given a case of beer each week, but the beer was from the Phillipeans from a brewery that MacAurthur owned. At night the guys would put a few empty beer cans in the 1-5-5 and fire them over the communist lines. He said the noise was incredible and nobody got any sleep over there. Every night they would harass the communists with the empty beer cans and with live rounds to keep things interesting and to keep them off guard.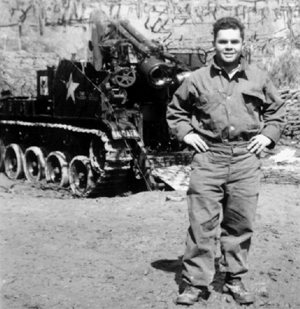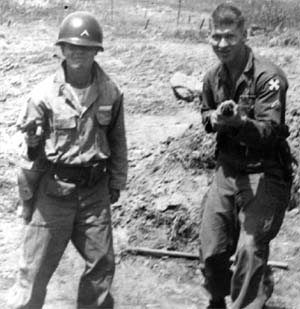 Uncle Buzz took great pride in his 1-5-5, claiming you could eat off it, it was kept that clean. As for the picture on the right, would you mess with these two?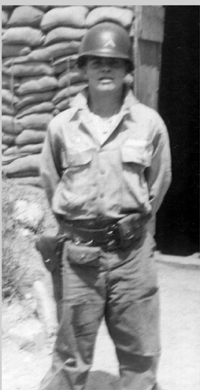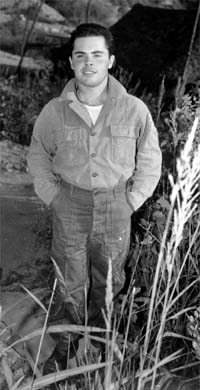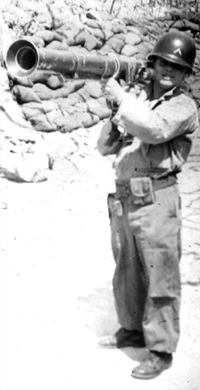 Most of the G.I.'s in Korea were not much more than boys when they were called to serve their country in Korea. G.I.'s came in all shapes an sizes and colors. But it's really not how big you are that matters in a fight, but how much damage you can inflict and of course how big a gun you're packing. The guys with the biggest guns wins.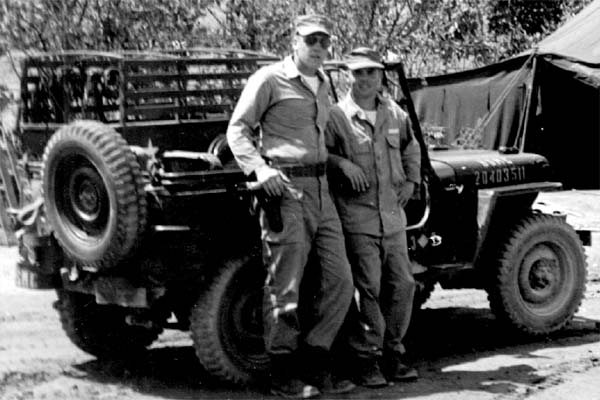 I'd like to have that Jeep, even if it is leftover from WWII.
---

follow Andy Ammo to the next page
---
|
HOME
|
PFC GEORGE E. HENDERSON
|
ABERDEEN PROVING GROUNDS
|
|
CROSSING PACIFIC TO KOREA
|
INCHON
|
McNAMARA
|
|
AT THE 58th
|
LEO THOMAS
|
DAE BUH CHANG
|
R&R IN JAPAN
|
|
121ST MEDICAL EVAC. HOSPITAL
|
|
THE PROPAGANDA WAR
|
GOING HOME ON THE USNS GEN. BLACK
|
LINKS
|
|
58th PX
|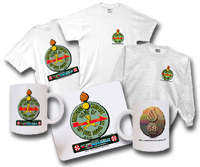 T-shirts, Mugs, Mouse Pads and more...