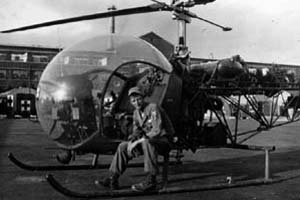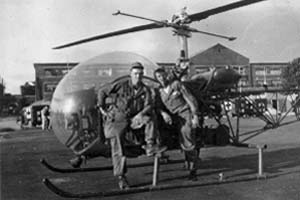 Here's Dad on a helicopter that carried General Deen to the 121st Evac. Hospital after he was released by the North Koreans. Gen Deen was the highest ranking American officer to be captured during the war.
The 58th was at the 121st for baseball game between the Ammo Co. Allstars and Evac. Allstars. I'll have to do some researh to get the finial score. The great American pass time in the Land of the Morning Calm...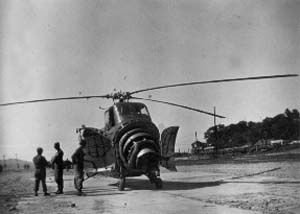 This is the Helicopter that took General Deen from Inchon to Japan.

Follow Andy Ammo to the next page
---
|
HOME
|
PFC GEORGE E. HENDERSON
|
ABERDEEN PROVING GROUNDS
|
|
CROSSING THE PACIFIC
|
INCHON
|
McNAMARA
|
|
AT THE 58th
|
LEO THOMAS
|
DAE BUH CHANG
|
R&R IN JAPAN
|
|
92nd ARMORED FIELD ARTILLERY
|
|
THE PROPAGANDA WAR
|
POW
|
GOING HOME ON THE USNS GEN. BLACK
|
LINKS
|
|
58th PX
|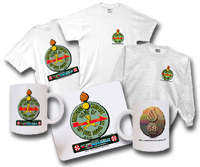 T-shirts, Mugs, Mouse Pads and more...
---

If you know any one who served in the 58th or have any information, corrections, questions or photos, please send me an e-mail.
---

---


Don Henderson - Illustration
---