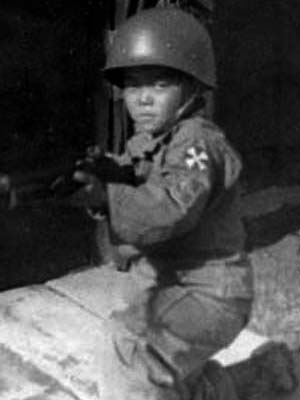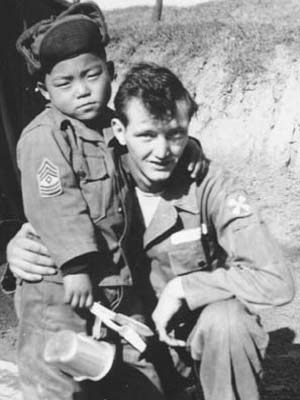 Master Sergeant Dae Buh Chang

The official mascot for the 58th was "Andy Ammo", but the un-official mascot was a Korean orphan who's parents had been killed by the North Koreans.
His name was Dae Buh Chang. Dae Buh Chang came to symbolize for the G.I.'s at the 58th the reason why they were there and why this war was being fought.

If anyone out there knows what became of Dae Buh Chang, please e-mail us and let us know. Dad thinks he was adopted by a Sergeant from Texas, but isn't sure. We think he would be about 52 to 55 years old.
This is a real life unsolved mystery, help us solve it.

Special Thanks to Ray Jones for translating the name Dae Buh Chang from the picture below. Ray was an American serviceman who was at Panmunjom in 1969-70. Ray served in rather a unique place in Korea that few Americans are familiar with. He was an MP for the UN at the Joint Security Area, Panmunjom in the DMZ. While there, Ray learned to speak Korean. To learn more about and the DMZ, visit Panmunjom JSA web site.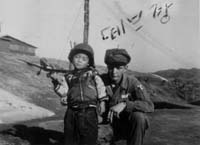 ---
"A Day with Buddha"
Dad had several photos taken at the local temple with one of the Korean children that hung around the base. I'm sure the Americans were a real curiosity to the Korean children, but at the same time everything in Korea was a curiosity to the G.I.'s. It must have been a major culture shock for the American troops to not only be in a war, but to be surrounded by Korean culture. I'm sure many Americans had never met a Korean much less a Buddhist and here they were in the middle of Korea in the middle of a war. Many Americans were profoundly affected by Korea, almost 50 years later many still are.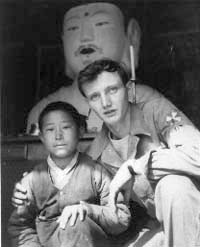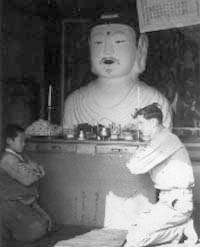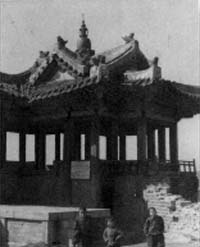 Praying for peace to Buda with Kim.
---

follow Andy Ammo to the next page
---
|
HOME
|
PFC GEORGE E. HENDERSON
|
ABERDEEN PROVING GROUNDS
|
|
CROSSING PACIFIC TO KOREA
|
INCHON
|
McNAMARA
|
|
AT THE 58th
|
LEO THOMAS
|
R&R IN JAPAN
|
|
92nd ARMORED FIELD ARTILLERY
|
121ST MEDICAL EVAC. HOSPITAL
|
|
PROPAGANDA WAR
|
GOING HOME ON THE USNS GEN. BLACK
|
LINKS
|
|
58th PX
|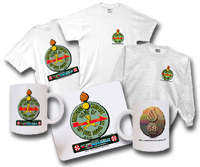 T-shirts, Mugs, Mouse Pads and more...