LEO THOMAS

One of my Dad's best friends at the 58th was Leo Thomas.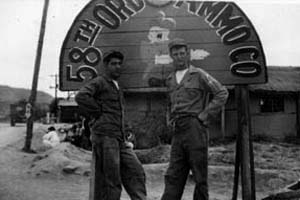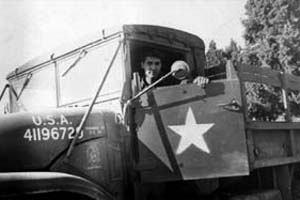 Here's Dad and Leo at one of the 58th signs and Leo with one of the 58th's trucks.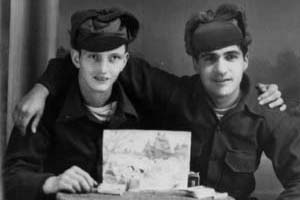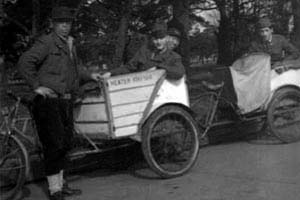 Dad and Leo spent a lot of time together. The photo on the left was taken at Christmas 1953. The photo on the right was taken on R&R in Tokyo, Japan. Check out the heated double Rik Shaw, nothing but the best for the G.I.'s on R&R
For some unknown reason, Dad always referred to Leo as Turk. As it turns out Leo wasn't even Turkish, but Dad never found this out till just a few years ago. Leo and dad spent a lot of time together and their friendship made life a little easier at the 58th. They went on R&R together to Tokyo. Leo took most of the pictures of Dad and vise a versa.
A bond was formed between these two that has lasted all these years. As a sign of that friendship forged in Korea, Leo named his son George to honor my Dad. Quite an honor, Dad was very taken by this, to say the least.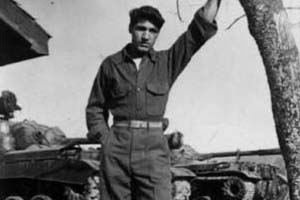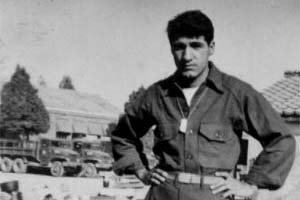 Here's Leo with the some of Company tanks and trucks in the background.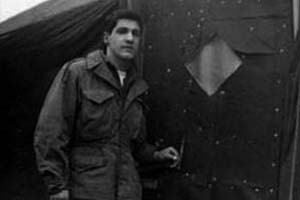 Leo at the company smimming hole and at his tent.

Follow Andy Ammo to the next page
---
|
HOME
|
PFC GEORGE E. HENDERSON
|
ABERDEEN PROVING GROUNDS
|
|
CROSSING PACIFIC
|
INCHON
|
McNAMARA
|
|
AT THE 58th
|
DAE BUH CHANG
|
R&R IN JAPAN
|
|
92nd ARMORED FIELD ARTILLERY
|
121ST MEDICAL EVAC. HOSPITAL
|
|
GOING HOME ON THE USNS GEN. BLACK
|
PROPAGANDA WAR
|
LINKS
|
|
58th PX
|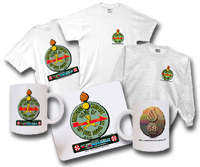 T-shirts, Mugs, Mouse Pads and more...