---

---
Propaganda was not unique to the Korean War, but the of propaganda use was brought to a new level in Korea. Most leaflets were dropped from aircraft as one leaflet below illustrates. They were printed on low quality paper in one or two colors. Most leaflet were directed at the enemy, but as the last one on this page illustrates, some were used to thank and encourage the UN troops for a job well done. For some reason my Dad had the far sightedness to collect leaflets. Through them we are given some insight into this little known phase of the Korean War.
---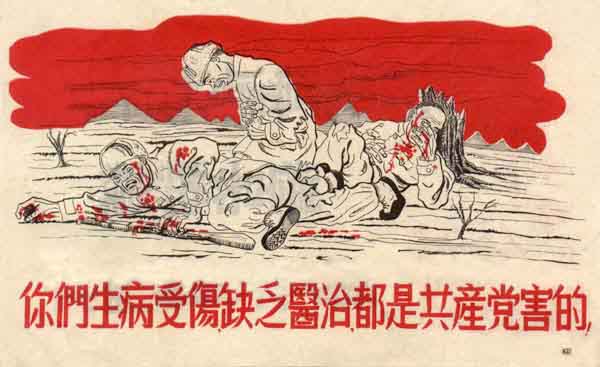 Imagine being cold, tired, demoralized and far from home. Here you are, under constant fire from ground and air attacks. A plane flys over, you brace yourself for the inevitable explosions, but all it turns out to be is propaganda leaflets.
Even without a translation, the message is clear on this leaflet. The dramatic graphics paint a rather grim picture of the war in Korea.
---
The leaflet above reads:
"All (of us -meaning the Chinese) are getting wounded and hurt and we don't have proper medical facilities."
---
Left:
"Everyone is in trouble because of this disaster. It is mentally painful. All our countrymen are getting hurt."
---
Ray Jones a former MP at Panmunjom in 1969-70 graciously offered to translate these propaganda leaflets for me. Ray is a ginseng grower in Maine, please visit
MAINE MOUNTAIN GINSENG.
---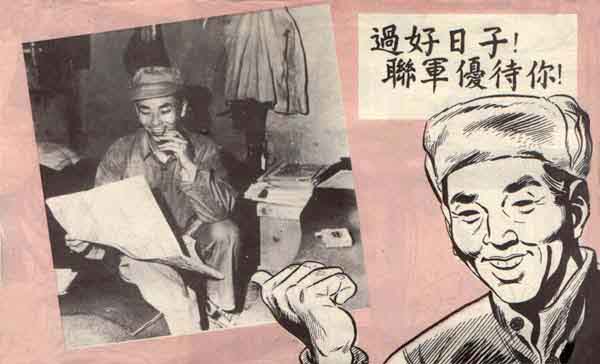 This leaflet reads: "The UN troops treat them good."

This leaflet reads:(1) I happened to hear a couple of soldiers talking. It seems we are fighting for the individual benefits of a few and nothing more. (2) When I was on night watch, I made up my mind to leave. (3) I turned myself in to the UN troops. (4) They are treating me good. All is well.
---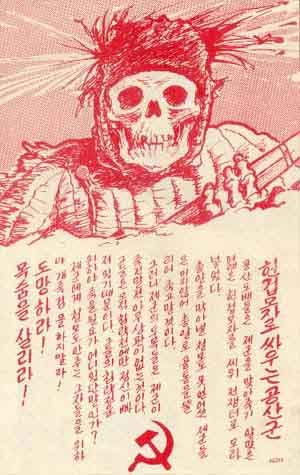 The importance of wearing a helmet becomes painfully obvious on this 2 sided leaflet.

The blue side with the UN soldier reads:
"The UN helmets save their soldiers. The UN always takes care of their soldiers. The UN has the most sophisticated weapons for their soldiers. There is no UN soldier without a helmet.. The UN general is not like the Communist boss who has prepared only for his own personal safety. The UN boss doesn't waste his soldiers for his own personal benefit. Why do you waste your life for a horrible boss who won't even give you a helmet? Save your life. It is well known that the Communist troops are on the run."
The red side reads:
"Save your life, desert! The Communists don't even give you a helmet. They only give you a "bunk hat". It cannot protect you from a bullet. Your boss doesn't care if you die. He doesn't have to worry; he isn't fighting in the field. Your bosses just reap the benefits of your sacrifice. Don't waste your life for the son of a bitch. Why do you waste your life for your boss? Save your skin."
---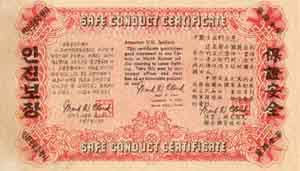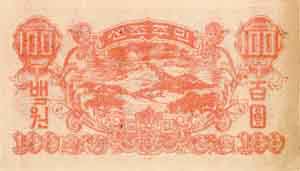 This is a Safe Conduct Pass. On the back is a 100 won ("baek won" in Korean on the left side of the central picture)
---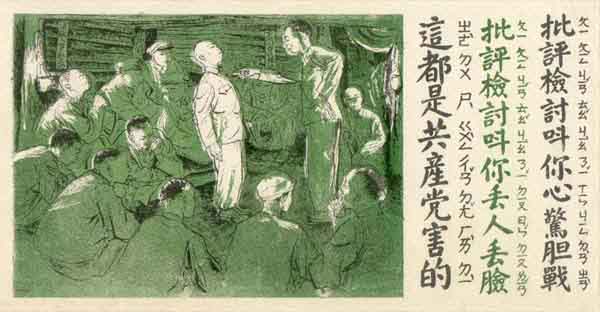 This leaflet reads: "Public confession is the heart of Communism." The connotation is that public confession is not good.
---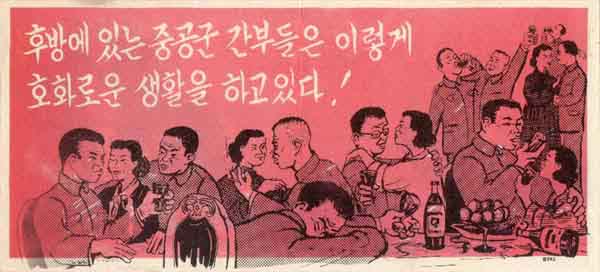 "Troops in the rear render meritorious service (then - loosely translated) by enjoying the good life."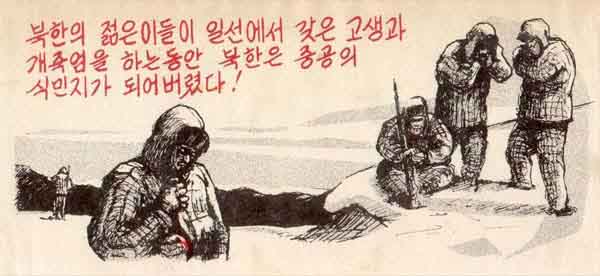 "Many young North Korean men are dying needlessly every day due to ever-increasing hardships. At the same time they are becoming the slaves of the Chinese Communists."
---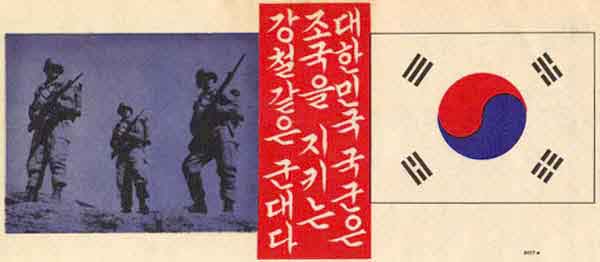 Loosely translated this leaflet reads: "We thank all the armies (or troops, or forces - take your pick) that are fighting for our country. Republic of Korea Army."
---

Follow Andy Ammo to the home page
---
|
PFC GEORGE E. HENDERSON
|
ABERDEEN PROVING GROUNDS
|
CROSSING PACIFIC
|
|
INCHON
|
McNAMARA
|
AT THE 58th
|
LEO THOMAS
|
DAE BUH CHANG
|
R&R IN JAPAN
|
|
92nd ARMORED FIELD ARTILLERY
|
121ST MEDICAL EVAC. HOSPITAL
|
|
GOING HOME ON THE USNS GEN. BLACK
|
LINKS
|
|
58th PX
|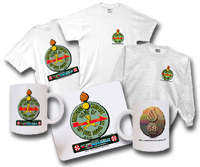 T-shirts, Mugs, Mouse Pads and more...
---

THANK A VETERAN FOR YOUR FREEDOM!
---
If you know any one who served in the 58th or have any information, corrections, questions or photos, please send me an e-mail.
---

---


Don Henderson - Illustration
---
--- A Very Special Thanks to Ray Jones for the Translations ---
---