Crossing the Pacific
on board the U.S.M.S.T.S. General E. T. Collins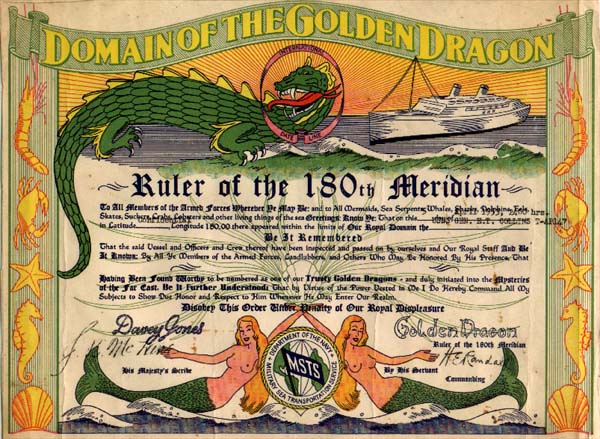 The Domain of the Golden Dragon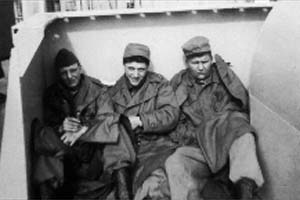 You can almost feel lunch coming up.
The Crossing to Korea was on board the U.S.M.S.T.S. General E. T. Collins. "The Collins was built on what's called a C-4 hull. Originally intended for cargo, it was later modified by using the cargo hold as troop quarters. As troop carriers there was two types, the C-4 like the Collins, and the second type was called a P-2 which resembled a conventional ocean liner" said Jack Hensley a sailor on the Collins. Jack also pointed out to me that "the Collins and Black (see "Going Home on the Gen. Black" at the bottom of the page) were NOT USNS ships, they were U.S.M.S.T.S. ships (United States Military Sea Transportation Service) They were operated by civilian crews and even the ships' officers were civilians (though most had Naval Reserve commissions.) To learn a little more about the Collins and Jack Hensley, visit
Atomic Tests: Operation Ivy, 1952 Eniwetok, Pacific Proving Grounds.
She left Seattle Washington in late March of 1953 for Yokohama Japan. By April 2nd the Collins was 2000 miles out and by April 5th she had crossed the 180th Meridian and the Domain of the Golden Dragon (the International Date Line). All on board were issued the special certificate above. Easter was spent onboard the Collins. The Collins arrived at the Yokahama Japan and the troops were sent to Camp Drake, then again by boat to the port of Inchon, South Korea.

follow Andy Ammo to the next page
---
|
HOME
|
PFC GEORGE E. HENDERSON
|
ABERDEEN PROVING GROUNDS
|
INCHON
|
|
McNAMARA
|
AT THE 58th
|
LEO THOMAS
|
DAE BUH CHANG
|
R&R IN JAPAN
|
|
92nd ARMORED FIELD ARTILLERY
|
121ST MEDICAL EVAC. HOSPITAL
|
|
THE PROPAGANDA WAR
|
GOING HOME ON THE GEN. BLACK
|
LINKS
|
|
58th PX
|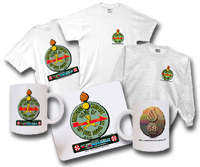 T-shirts, Mugs, Mouse Pads and more...