13th Bomb Squadron Association.fø!A> Join this elite fighting Squadron for a few moments and learn everything you ever wanted to know about low-level, night interdiction missions of the Korean War!
14th Field Hospital * Pusan, Korea. An Excelent site to find out about the job of Korean War Medic Corporal Ernest Charles Hampton, Sr. * 14th Field Hospital * Pusan, Korea * 1952-1954.
Korean war weapons, history, bibliography, links. An Excelent site to find out about all the weapons of war used in Korea.
D Company. Dedicated to the Marines and Navy Corpsmen who served with, or were attached to D Company, 7th Marines in Korea.
Examining the Korean War. This page is designed to educate readers about the Korean War and to offer resources for learning and research. This page is dedicated to all men and women who served in the Korean War.
The Korean War: Cpl. Cecil H. Martin, Radio/Communications-U.S. Army, C Co, 15th Inf, 3d Inf Div, KOREA 1952-1953, Korean War, Chorwon Valley/Jackson Hill.
War experience inspires a writer. MSNBC coverage of t>ºcworean War. I'm not sure how long this will be online, but if you get a chance to view it, it is very good coverage of the War with interviews an d photos.
The 50th Anniversary of the Korean War. Find out about the upcoming 50th Anniversay of the Korean War.
The home page of the 2nd Infantry Division, Korean War Veterans Alliance. 2nd Infantry Division (2id), Korean War Veterans Alliance welcome you to visit this site.
The National Personnel Records Center
---
Please suggest any Korean War related sites and I'll be happy to add them to this page.
---

follow Andy Ammo to the next page
---
|
PFC GEORGE E. HENDERSON
|
ABERDEEN PROVING GROUNDS
|
CROSSING PACIFIC
|
|
INCHON
|
McNAMARA
|
AT THE 58th
|
LEO THOMAS
|
DAE BUH CHANG
|
R&R IN JAPAN
|
|
92nd ARMORED FIELD ARTILLERY
|
121ST MEDICAL EVAC. HOSPITAL
|
|
GOING HOME ON THE USNS GEN. BLACK
|
PROPAGANDA WAR
|
|
58th PX
|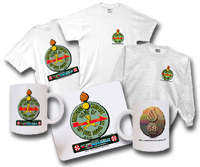 T-shirts, Mugs, Mouse Pads and more...
---

THANK A VETERAN FOR YOUR FREEDOM!
---
If you know any one who served in the 58th or have any information, corrections, questions or photos, please send me an e-mail.
---

---
Site design by



This site was created by Don and Shane Henderson
for all the men who served at the 58th Ord Ammo Company in Korea.
---